NEW CHALLENGE - QUINTET HAS NEA GRANT for MEMORY PROJECT STAGE 2!
Dear Friends of Quintet of the Americas, We have a new $10,000 grant from the National Endowment for the Arts for a new Memory Project. We need to match this grant 1:1. Please help us reach this goal. $6,950 already raised! Help us raise the additional $3,050.
Please click here to make a contribution.
Quintet Launches the Memory Project Stage 2 with composer Harold Gutierrez.
Meet The 2014-15 Memory Project Composer Harold Gutiérrez
Harold Gutiérrez began his musical studies at the Conservatory of the National University of Colombia and the Academy of Arts in Bogota with emphasis on Caribbean-Latin American music. Since 2001 in New York, he has been musical director for the Society of the Educational Arts (SEA), an organization that seeks to celebrate the Spanish-American culture in the United States and Puerto Rico through bilingual musical theater. Working with SEA in 2011, Gutiérrez wrote the score for the musical "DC-7 The Roberto Clemente Story," winner of 6 ACE Awards and 2 HOLA Awards in New York, with almost 100 performances in New York, Washington DC and San Juan, Puerto Rico.
Since 2002 he has also been the composer and musical director of the "Ballet Folklorico Mestizo". During the last decade, Gutiérrez has been active as a composer, arranger, pianist, session musician and educator in the United States. He is recipient of many prizes including first place in the competition of the League of Composers in Long Island, New York (2009), and the award of "Theory and Composition Leo Kraft" award (2011 - the City University of New York). In 2012, his work Alboroque was a finalist in the National Symphonic Composition Competition in Colombia.
He is currently professor of piano, theory and composition at the Conservatory i-School of Long Island, New York. He has an undergraduate degree and master's degree in classical composition at the Aaron Copland School of Music - Queens College, City University of New York, under the guidance of Bruce Saylor (Juilliard School), Hubert Howe (Princeton University) Henry Burnett ( CUNY) and William Rothstein (Yale University). His music has been performed by internationally renowned musicians in various scenarios of the United States, Europe and Latin America.
See an interview with Chamber Music America about the Memory Project...
Click here to see more news from the memory project...
Click here to see more photos...
Add the amount you want to donate here: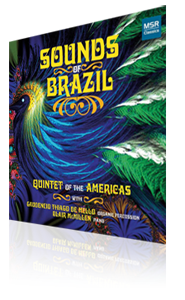 SOUNDS OF BRAZIL
The Quintet announces the release of its exciting new recording, SOUNDS OF BRAZIL, on the MSR label. The music includes choros, lullabies and songs by Gaudencio Thiago de Mello who performs with the Quintet on his unique organic percussion from the Amazon. Thiago plays with the Quintet on works by Ernesto Nazareth and Pixinguinha as well. The Quintet is proud to include Changes, a work they commissioned by Brazilian-American pianist and composer Marcelo Zarvos. Rounding out the CD is Ventos, another Quintet commission by a gifted young composer on the New York scene, Ricardo Romaneiro. Guest artists include Blair McMillen on piano and Scott Kuney on guitar.
SOUNDS OF BRAZIL on the MSR Label
Karel Husa Recollections on the New World Records label.
Dancing in Colombia on the MSR Label - 15 Colombian dances including bambucos, pasillos, bundes and paseos.
Self Portrait on the CRI label - avant garde music for Quintet including works by Pauline Oliveros, Elliot Sharp, Amy Rubin, Christopher Culpo and Lee Hyla
Discovering the New World on the MMC label - music from the Carnegie Hall Concert (Louis Ballard, William Thomas McKinley, Roberto Sierra, and "America (Suite Popular)" - Ilan Rechtman).
Souvenirs, 20 Musical Mementos from the New World on the XLNT label - Samuel Barber's "Summer Music" and many Quintet favorites.
See the Quintet on Youtube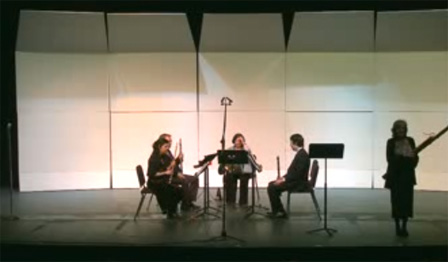 "The Memory Project: Cystal winter concert"
February 22, 2015 at 1:00PM, at El Paraiso, 102-11 43rd Avenue, Corona, Queens, NY
"The Memory Project"
March 1, 2015 at 2PM at Flushing Library, 41-17 Main Street, Flushing, NY
Premieres of new works by Harold Gutierrez based on the memories and stories of Latino seniors;
parents and students: "Retrospectives" for quintet and "Dreamers' March" for the Quintet and
the Corona Children's Orchestra
"In Pursuit of Freedom"
May 10 at 3:30 PM St. Marks Church-in-the-Bowery, 131 E. 10th St., NY, NY
Langston Hughes Library, 100-01 Northern Blvd., Corona Queens
St. Philips Episcopal Church, 204 W. 134th Street, NY, NY
Brooklyn Historical Society, 128 Pierrepont St., Brooklyn, NY
Featuring Carl MaultsBy's "The Journey" and Kum-Ba-Ya Marcus and other works by
Valerie Coleman, William Grant Still, and Barbara Harbach; and poetry by Maya Angelou and Paul Laurence Dunbar.
"The Melting Pot" concerts
March 3, 2015 at 11AM at the Salvation Army, 86-07 35th Ave, Jackson Heights, Queens
March 3, 2015 at 1PM Elm-Cor Senior Center, 98-19 Astoria Blvd, East Elmhurst, Queens
March 4, 2015 at 12:30PM at Bayside Senior Center, 221-15 Horace Harding Expy, Bayside Queens
June 14, 2015 at 2:30 at the Queens Botanical Garden, 43-50 Main Street, Flushing, NY
Featuring a new work by Flushing composer Daniel Ott as well as works by Valerie Coleman, Xinyan Li,
Stuart Balcomb, Mohammed Fairouz, Ljova, Gunther Schuller, and Carlos Franzetti
"From the Heart" concerts in June, 2015 at
Community Mediation Services, 89-64 163rd Street, Jamaica, NY
Rockaway Artists Alliance, Ft. Tilden, Far Rockaway, Queens
featuring works by Ljova, Lembit Beecher, Xinyan Li, Neil Rolnick, Matt Sullivan, Roberto Sierra, and
an animated film by Kate Neil.

Watch the Quintet play in "El Picaflor"
Quintet of the Americas visits the New York Hall of Science and Flushing Meadow Park. Hear El Picaflor (also available for download on Amazon from the Dancing in Colombia CD.)
Format iPad — Format WMV link – MPG — YouTube – Dailymotion – Veoh.com – Vimeo.com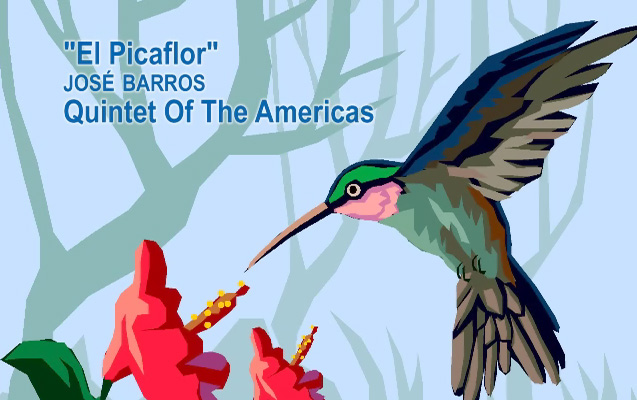 Listen to the Quintet
Now also on SoundCloud
Wiggle Room
First movement of Short Winds (2010) by Sean Friar recorded live at Princeton University April 26, 2011
Sfumato I Vivace, by Yao Chen
The Quintet of the Americas
Sfumato II Adagio, by Yao Chen
The Quintet of the Americas
Sfumato III Capriccio, by Yao Chen
The Quintet of the Americas
Ambos Mundos, Shadow Quartet, Neil Rolnick
The Quintet of the Americas
Mo Suo's Burial Ceremony, by Xinyan Li
The Quintet of the Americas