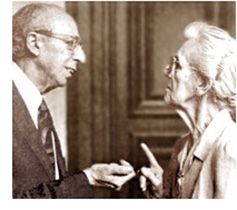 Americans in Paris and Back Again - The influence of Nadia Boulanger
Quintet of the Americas will present "Americans in Paris and Back Again" a program that explores the influence of Nadia Boulanger, the famous 20th century composition teacher, on American composers. Boulanger's influence was far and wide with over 1,200 composers coming from all over the world to study with her. In these concerts the Quintet will perform works by Aaron Copland, Leonard Bernstein, Elliott Carter, Astor Piazzolla, Irving Fine, and Quincy Jones, all composers who were directly influence by her, as well as music by Bruce Stark, one of the next generation of composers who felt her influence.
The Quintet will also include an arrangement of "American in Paris" by George Gershwin. Ironically, though Gershwin went to Paris to study with Boulanger, she refused to teach him, claiming he already had a unique style and she couldn't teach him anything! Preparing this concert took us to the Library of Congress to search for a woodwind quintet by one of Boulanger's many female students: Louise Talma.
The performance of the quintet by Louise Talma will probably be a world premiere. We are honored to bring this work to light.
Photo caption: Aaron Copland with Nadia Boulanger

See upcoming concerts for information on these programs at the Rockaway Artists Alliance.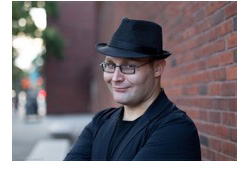 The Quintet Launches a Community Project with composer Ljova which will span two seasons!
The Quintet is thrilled to be working with Lev "Ljova" Zhurbin again! This project will involve working with elementary school recorder players, an elementary school chorus, seniors and a community orchestra in Jackson Heights, Queens. Ljova will work with each group to write a 4-movement piece which will be performed for the whole community in December 2018.
Photo caption: Lev "Ljova" Zhurbin © 2016 by Mark Gurevich / AGMA Photography

Ljova was involved in our first Memory Project in 2013 as part of a Chamber Music America residency. He wrote two works for us: "Lullaby and Memory" based on interviews with Latina seniors in Jackson Heights, and "Click", a clever piece for elementary school students to play classroom percussion instruments with the Quintet. The student's parts were easy but the Quintet parts were very rhythmically intricate. In 2015-16 he joined the Quintet in our residency in the Rockaways and wrote "Rockaway Baby" based on interviews with residents of the Peninsula Rehab Center.

See the Quintet on Youtube
First Memory Project - Bayside Senior Center, Queens, NY https://www.youtube.com/watch?v=RP0s4XwF8-g
New Memory Project work, "Retrospectives" by Harold Gutierrez on YouTube https://www.youtube.com/watch?v=Q4iVRrj-iQo
Memory Project post-concert interviews with students and parents from the Corona Youth Orchestra after our premiere performance of "Dreamers' March" for solo quintet and youth orchestra by Harold Gutierrez https://www.youtube.com/watch?v=jYWhS2PhZFA
New NYSCA Commission "Variable Winds" by Daniel Ott on YouTube https://www.youtube.com/watch?v=wQAKs__qfNc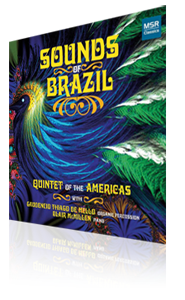 SOUNDS OF BRAZIL
The Quintet announces the release of its exciting new recording, SOUNDS OF BRAZIL, on the MSR label. The music includes choros, lullabies and songs by Gaudencio Thiago de Mello who performs with the Quintet on his unique organic percussion from the Amazon. Thiago plays with the Quintet on works by Ernesto Nazareth and Pixinguinha as well. The Quintet is proud to include Changes, a work they commissioned by Brazilian-American pianist and composer Marcelo Zarvos. Rounding out the CD is Ventos, another Quintet commission by a gifted young composer on the New York scene, Ricardo Romaneiro. Guest artists include Blair McMillen on piano and Scott Kuney on guitar.
SOUNDS OF BRAZIL on the MSR Label
Karel Husa Recollections on the New World Records label.
Dancing in Colombia on the MSR Label - 15 Colombian dances including bambucos, pasillos, bundes and paseos.
Self Portrait on the CRI label - avant garde music for Quintet including works by Pauline Oliveros, Elliot Sharp, Amy Rubin, Christopher Culpo and Lee Hyla
Discovering the New World on the MMC label - music from the Carnegie Hall Concert (Louis Ballard, William Thomas McKinley, Roberto Sierra, and "America (Suite Popular)" - Ilan Rechtman).
Souvenirs, 20 Musical Mementos from the New World on the XLNT label - Samuel Barber's "Summer Music" and many Quintet favorites.


The Quintet heads to CUBA in November
The Quintet has been invited to participate in the 31st Festival de la Habana, international contemporary music festival. The festival runs from November 3-11 and the Quintet concert will be on November 6.

Watch the Quintet play in "El Picaflor"
Quintet of the Americas visits the New York Hall of Science and Flushing Meadow Park. Hear El Picaflor (also available for download on Amazon from the Dancing in Colombia CD.)
Format WMV link – YouTube – Dailymotion – Veoh.com – Vimeo.com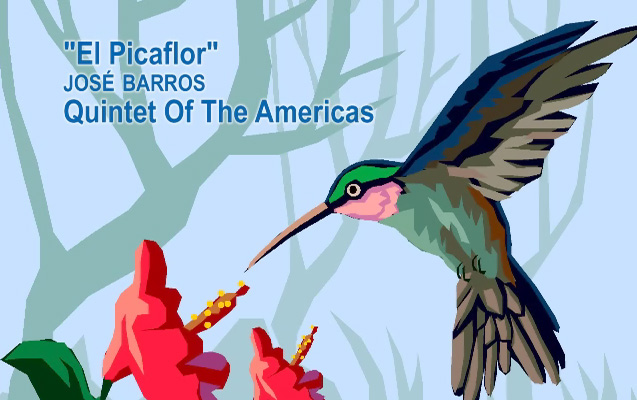 Listen to the Quintet
Now also on SoundCloud
Wiggle Room
First movement of Short Winds (2010) by Sean Friar recorded live at Princeton University April 26, 2011
Sfumato I Vivace, by Yao Chen
The Quintet of the Americas
Sfumato II Adagio, by Yao Chen
The Quintet of the Americas
Sfumato III Capriccio, by Yao Chen
The Quintet of the Americas
Ambos Mundos, Shadow Quartet, Neil Rolnick
The Quintet of the Americas
Mo Suo's Burial Ceremony, by Xinyan Li
The Quintet of the Americas
Add the amount you want to donate here: