Monthly Featured composer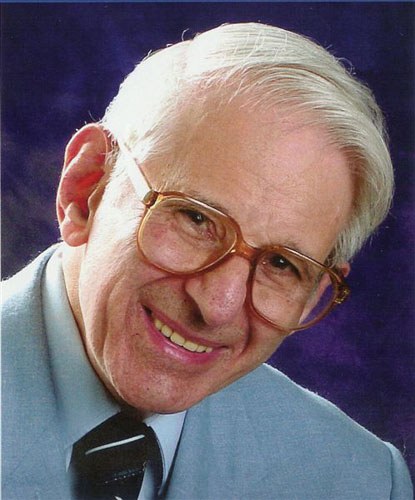 James Cohn
Quintet of the Americas was introduced to composer James Cohn about two decades ago. Our colleagues felt here was someone we should get to know - a wonderful composer AND he lives in Queens! Jim was born in 1928 in Newark, New Jersey where his early musical studies meant violin and piano lessons. Later he studied composition with Roy Harris, Wayne Barlow and Bernard Wagenaar, and graduated with a major in Composition at The Juilliard School.
A man with a quick wit, the Quintet has enjoyed performing his works while smiling at the delightful humor which comes out in his music. The Quintet has performed both his woodwind quintets, and recorded the Concerto da camera and Quintet No. 2, Strutting Butterflies, and his arrangements of Kid Ory's Muskrat Ramble, James P. Jophnson's The Carolina Shout, and Shenandoah. Written for the Quintet and dedicated to President Bill Clinton, Cohn's Arkansas Reel is always a big favorite where ever the Quintet performs it. The new Mozart Fantasy, premiered by the Quintet on Oct 1, 2006, was also met with delight by both audience and crtitics.
Jim has written a large catalog of music: solo, chamber, choral and orchestral works, 3 string quartets, 5 piano sonatas, 8 symphonies and an opera. His awards include a Queen Elisabeth of Belgium Prize for his Symphony No. 2 (premiered at Brussels) and an A.I.D.E.M. prize for his Symphony No. 4 (premiered in Florence at the Maggio Musicale). Paul Paray and the Detroit Symphony introduced the composer's Symphony No. 3 and Variations on "The Wayfaring Stranger", and his opera The Fall of the City received its premiere in Athens, Ohio after winning the Ohio University Opera Award. He has had many performances of his choral and chamber music, and world-wide use of his music commissioned for television and cinema. His most recent completed orchestral work is a Piano Concerto, commissioned by the Argentine pianist Mirian Conti. His most recent chamber music works inlcude the Trio No. 2 for Piano, Violin and Cello, commissioned by Sigma Alpha Iota and premiered at Sigma Alpha Iota's annual Convention in the summer of 2006 at Orlando, Florida; 3 Dances for Clarinet and Guitar, commissioned by Raphael Sanders and David Galvez; and Duo for Clarinet & Violin, commissioned by Julianne Kirk and Adda Kridler.
Commissions for other works have come from The McKim Fund in the Library of Congress (for the Concerto da camera for Violin, Piano and Wind Quintet), Pennsylvania's "Music At Gretna" festival (for the Mount Gretna Suite, for chamber orchestra), Jon Manasse (for the Concerto No. 1 for Clarinet and Strings), Christopher Jepperson (for 3 Evocations [Clarinet Concerto No. 2]), Jeffrey Silberschlag (for the Concerto for Trumpet and Strings) and Claribel (the Belgian 30-piece clarinet ensemble) (for the 3-movement suite Caprice).
Jim and his wife Eileen have been wonderful supporters of the Quintet for many years and it is with great pleasure we will be performing brining his Mozart Fantasy to more audiences in Queens.
You can read online reviews of some of his XLNT CD recordings and find out more about Jim by going to http://www.jamesarts.com/CohnBio0202.htm

SOME WORDS FROM THE PRESS
"Imagine: here is contemporary music that is easy to listen to and enjoyable... Cohn reminds me of (Jean) Francaix in his expert writing for wind instruments and for his infectious good humor and high spirits, and of Hindemith for his angular melodies. These comparisons are not meant to suggest that Cohn is not original, for he is... I would rank the Wind Quintet high on the long list of such works in the literature." - AMERICAN RECORD GUIDE
"James Cohn's music is light and gay yet thoroughly classical; the wind music has something of the spirit of Parisian wind pieces, but with a distinctly American flavor. Chief characteristics are brevity, wit and clarity; Cohn's melodies are charming." - FANFARE